Batu Karas Beach West Java is a tourist attraction on the south coast of Java. The black sand beach offers a fine view of the Indian Ocean with calm natural life and one of the perfect places for a vacation or learning surfing.
Located in Batu Karas village, Cijulang sub-district, Pangandaran district, West Java Province, Indonesia.
Batukaras tourism is a quiet place that is the main goal of your vacation when compared to Pangandaran Beach.
This beach is the flattest with a small bay, so surfers don't have to paddle too far to reach the starting point of the waves. Also, the best place to learn to surf in Java Island.
Sometimes they call Small Bali.
There are three Batu Karas surf spots that are commonly known to surfers, Karang, Legok Pari, and Bulak Bunjuk.
Legok Pari is a favorite surfing spot for beginners because it is safe and the waves aren't too high.
For professional surfers, they choose Bulak Bunjuk as their favorite spot. This wave is long and high.
The dry season is the perfect season for visiting Batu Karas Beach.
Things to do in Batu Karas Beach
There aren't so many things to do here, some people choose to swimming and playing water games such as jet ski, banana boat, donut boat, and surrounding fishing villages.
You can also canoeing in Mangrove Forest Nusawiru, skydiving in Nusawiru Airport, body rafting in Pangandaran Green Canyon or Citumang or take a boat trip to Karang Nunggal Beach (Beach with different types of coral reefs and rock formations with beautiful natural scenery).
How to get to Batu Karas Beach
If you're living in Pangandaran Beach, and then wanna be a solo travel/backpacker. The first go to Pangandaran station use transportation to Cijulang by using local public transport. Take a blue-colored Angkot (public minivan).
And then, take a motorcycle taxi.
The shortest way from Cijulang to Batu Karas (about 20 minutes) is via a bamboo bridge.
A practical way from Pangandaran Beach to Batu Karas can use online transportation such as Gojek. Approximately 1 hour for a distance of 34 km from Pangandaran. Sometimes the hotel you living in offers services like this.
Along the way before arriving at Batu Karas Beach, you will see Batu Hiu Beach and Green Canyon Lake. From Green Canyon about 12 km to your destination.
Map
Ticket Price
Pedestrians 1 Person Rp. 5,800
Motorcycle Rp. 13,500
Jeep Vehicle Type IDR 34,000
Vehicle Type Taken IDR 65,000
Large Passenger Vehicles IDR 93,000
Small Bus IDR 122,000
Medium Bus Rp. 186,000
Large Bus Rp. 307,000
Batu Karas Accommodations
There are many facilities that you can use like a cheap hotel, homestay, surfing boards rentals. Click the links to booking via Booking.com and click the pic via Agoda.
Sunrise Resort Batukaras features a shared lounge, a garden and a sun terrace with swimming pool and Asian breakfast in Batukaras. Among the facilities of this property are a restaurant, a 24-hour front desk and a shared kitchen, along with free WiFi. There is free private parking and the property provides paid airport shuttle service.
All guest rooms at the hotel are equipped with a seating area, a flat-screen TV with cable channels and a safety deposit box. Guest rooms at Sunrise Resort Batukaras feature air conditioning and a closet.
Bike rental and car rental are available at the accommodation and the area is popular for windsurfing and cycling. Booking now on Agoda or Booking.com.
Amazon Bungalow & Cottages presents a cozy stay and offers free on site parking space for guests who drive.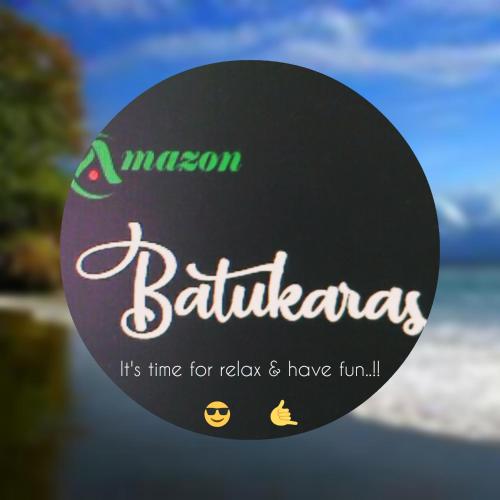 Rooms at Amazon Bungalows & Cottages are all air-conditioned and fitted with a seating area, a wardrobe, a flat screen TV, and an private bathroom with shower facility. Towels and linens are also provided.
Daily housekeeping is offered upon request, while guests are welcome to use the BBQ facility for free. Booking now on Agoda or Booking.com.
But if you have a low budget. You can choose Anik Homestay Batukaras provides a shared lounge and free WiFi.
All units come with a patio with garden views, a kitchen with a dishwasher, and a shared bathroom with bidet. There's a seating and/or dining area in some units.
A buffet breakfast is available daily at the family stay.
You can also rent a house owned by a local resident. Sometime this is my favorite choose.
However, I prefer to make tents and camp. Enjoying the waves hit the coral and the night breeze on my body.
I hurriedly made a campfire and I put a skewer of small fish in it which was already sprinkled with oyster sauce.
We tell silly stories of, uh, a free glass of beer.