Borobudur Temple: Study Tour to The Largest Buddhist Temple in The World
I'm so glad, my school held a study tour to Borobudur Temple, which is the single most visited tourist attraction in Indonesia.
The homeroom teacher said "Each class must make clothes according to their own design".
Yes, our school is art. So this must be made different from others.
After the final school exams. Me and my friends, including our teacher, took a study tour.
This is to get to know Indonesia's national cultural heritage and its history.
We leave at 9:00 at night. But, we have all the sights on the road. That is fun!
Finally, we arrived in Yogyakarta at 5:00 in the morning.
We need to break, then go to Borobudur Temple about an hour from Yogyakarta City.
Mm fffiiuuuhh … This morning was fresh.
Because Borobudur temple located about 40 kilometers northwest of Yogyakarta and 86 kilometers west of Surakarta, in an elevated area between two twin volcanoes, Sundoro – Sumbing and Mount Merbabu – Merapi, and two rivers, Progo and Elo.
Our teacher giving instructions, prayed and we were done. Let's go!
Before entering into Borobudur temple compounds, everyone was given a batik shawl. Then tied to the waist.
Borobudur Temple is a 9th century Mahayana Buddhist temple located in Magelang Regency, precisely on Jl Badrawati, Magelang, Central Java, Indonesia.
This is the largest Buddhist temple in the world consisting of nine platforms stacked, six square and three circles, topped by a central dome.
Built in the 9th century during the reign of the Sailendra Dynasty. The design of the temple follows Javanese Buddhist architecture, which combines the worship of Indonesian traditional ancestors and Buddhist concepts to attaining Nirvana.
This monument is a holy place for the Buddha and a place for Buddhist pilgrimage.
The walls are decorated with 2,672 relief panels with a length of 2 meters each and 504 Buddha statues. The central dome is surrounded by 72 Buddha statues, and a large main stupa at the top.
It was built in three tiers: a pyramidal base with five concentric square terraces, the trunk of a cone with three circular platforms and, at the top, a monumental stupa.
Uniquely, these blocks are arranged without using glue or cement.
This looks like a giant lego arrangement.
Each stupa is bell-shaped and pierced by many decorative holes. Statue of the Buddha sit in stabbed cages.
These relief panels tell the stages of Buddhist life according to Buddhist cosmological symbols. Bas-reliefs in Borobudur depict many scenes of daily life in ancient Java in the 8th century. Of court life were polite, ascetics in the forest, to views of ordinary people in the village.
It also depicts temples, markets, various flora and fauna, as well as original vernacular architecture.
The relief at the bottom of the temple is called 'Kamadhatu (world of desires)'. Which tells of the behavior of evil people who are filled with the passion of the world and make it go to hell.
The middle relief, called 'Rapadhatu (world of forms)'. Which tells the story of a man who has been freed from lust.
Here, the Buddha Statues are arranged in rows on the outer side of the ledge. The number of statues decreases as the platform decreases to the upper level. The first ledge has 104 niches, 104 second, 88 third, 72 fourth and 64 fifth. In total, there are 432 Buddha statues.
While the top relief is 'Arupadhatu (world of intangibles)'. This relief illustrates the highest level of attainment in which the gods live. Here are three circular platforms, Buddha statues are placed inside perforated stupas. The first round platform has 32 stupas, 24 second stupas and 16 third stupas, which add up to 72 stupas.
Besides the three reliefs, there are actually relief panels at the bottom of the buried temple. The buried relief is 'Karmawibhangga'.
This relief illustrates human bad behavior that follows their desires such as killing, gossiping, and raping. These panels are deliberately buried because the relief is too vulgar.
But this reason is debated. They said that this is intentional because it doesn't deserve to be shown to the public. Some are suspected to maintaining stability of the temple position so that it doesn't collapse.
Evidence shows that Borobudur was built in the 9th century. Then abandoned after the decline of the Hindu kingdom in Java in the 14th century and the conversion of Java to Islam.
Knowledge throughout the world about its existence was sparked in 1814 by Sir Thomas Stamford Raffles. At the time it was then the British ruler of Java, who was advised of its location by native Indonesians.
Borobudur has since been preserved through several restorations. The largest restoration project was carried out between 1975 and 1982 by Indonesian government and UNESCO. Then followed by a list of monuments as a UNESCO World Heritage Site.
UNESCO registered Borobudur as a World Heritage Site in 1991. And ranks with Bagan in Myanmar and Angkor Wat in Cambodia as one of the major archeological sites in Southeast Asia.
The History of Borobudur Temple
Borobudur Temple is estimated to have been built during the Sailendra Dynasty around the 8th and 9th centuries under the reign of King Samaratungga.
The peak control of Sailendra dynasty over Mataram empire in Central Java.
The architect construction of temple complex named Gunadharma who managed to design Hindu and Buddhist monuments without knowing computer systems and other advanced technology.
Borobudur was built in such a way that it revealed various levels of terraces. It shows the intricate architecture that changed from being heavily decorated with reliefs to plain on the circular terrace of Arupadhatu.
The construction of this largest temple complex can be completed around 50-70 years later.
The name Borobudur comes from the Sanskrit 'Vihara Buddha Uhr' which means Buddhist Monastery on the Mount.
At that time, Borobudur Temple became the largest center of religious activity. Until the entry of influence Islam in the 15th century.
This temple began to be abandoned by people who converted to Islam. Borobudur is increasingly forgotten when Mount Merapi erupts, which makes it buried volcanic ash.
Reliefs from the Borobudur architecture contain around 2,670 individual bas reliefs (1,460 narratives and 1,212 decorative panels), which cover the facade and ledge. Narrative panel, which tells the story of Sudhana and Manohara.
In 1814, Thomas Stamford Raffles revealed Borobudur Temple after receiving information about the existence of a large building piled with volcanic ash.
Not only covered by volcanic ash, the condition of the temple when it was discovered was also filled with shrubs.
Since being rediscovered, restoration and various efforts to rebuild the temple began in British colonial period, Netherlands until when Indonesia gained its independence.
During the restoration of the early 20th century, it was found that three Buddhist temples in the region. Namely Borobudur, Pawon and Mendut, were positioned along a straight line.
With the help of UNESCO and cultural historians from various parts of the world, Indonesia continues to improve the condition of Borobudur Temple.
After more than ten centuries of repair and maintenance, this temple complex still stands today and has even become one of the seven wonders of the world.
Things to do in Borobudur Temple
If you like literary arts and culture, you can read and observe the relief panels drawn on the walls of Borobudur Temple.
To be able to read relief stories in sequence.
You have to walk around the temple in a clockwise direction that is from left to right. Starting from the east door at the lowest level and walk around until you get back to the initial door. Then go upstairs to the next level.
Do this continuously up to the upper level to get the story in sequential and complete. If you have trouble reading the story of relief? Guide services is ready to help you.
Borobudur Temple is one of the most influential places of worship for Buddhists in the world.
Every year this temple complex becomes the Vesak celebrations center and is visited by Buddhists from various countries such as Thailand, Cambodia, China and Tibet. Vesak Day is celebrated during the full moon in May or commonly called the Full Siddhi.
Enjoying the sunset and sunrise is also fun.
In addation, you can also visit Prambanan temple which is adjacent to Borobudur. there, in the large Shiva temple there are three smaller temples dedicated to the vehicle (vahana) of each God.
Map
Borobudur Accomodations
There are several such Homestay accommodations for one night. However, some people also prefer to stay at Yogyakarta hotels. Here is the best hotel to stay in Borobudur.
1. Plataran Heritage Borobudur Hotel
Plataran Heritage Borobudur Hotel offers an accommodations with a large outdoor pool in Borobudur. Surrounded by tropical greenery and view of Menoreh Hill, the property houses a fine-dining restaurant and a luxury spa center. Free WiFi is accessible in all areas.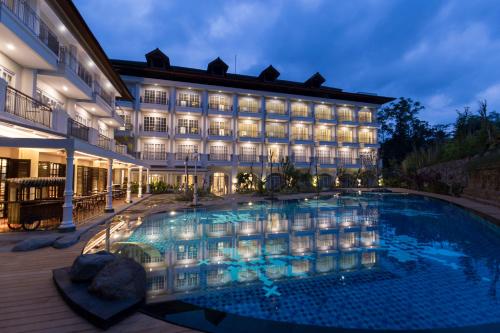 Showcasing architecture and interior with charming traditional Javanese and colonial elements, guest rooms and suites at this 4-star hotel offer modern amenities for your comfort, such as air conditioning, a mini-bar and a flat-screen TV.
Decorated in neutral colors, certain rooms have a mountain view, while others come with a pool view. At Plataran Heritage Borobudur Hotel each room includes a private marble bathroom with a shower and free exclusive toiletries.
Delectable Indonesian, Asian, and international fares by the resident chef can be enjoyed at Menoreh Restaurant, where buffet breakfast is also served daily. Guests can also freshen up at Langit Menoreh Bar & Lounge with cool drinks and light bites, while enjoying view of the pool and the surrounding landscape.
Alternatively, head over to Stupa where intriguing culinary journey from the Indonesian Archipelago is served on the romantic open-air tables. Booking now on Agoda.
2. Villa Borobudur Resort
Villa Borobudur Resort offers traditional Indonesian accommodations with free WiFi, free laundry services and complimentary airport transfer. Relaxing massage can be enjoyed by the outdoor pool or at the spa. Full-board Indonesian meals are provided at the villa's dining room. Snacks and nonalcoholic beverages are provided.
Each villa features a private pool and a terrace to relax. The rooms are housed in a spacious Joglo (traditional house), featuring artwork and antique furnishings from Central Java. All rooms have a flat-screen TV, DVD player and a mini-bar. Private bathrooms have a bathtub and shower facilities.
This unique hotel overlooks rice fields, rivers and the majestic volcanoes of Mount Merapi and Mount Merbabu. Villa Borobudur Resort is an hour's drive from Adi Sucipto Airport and Yogyakarta City. Free parking is available.
Car rentals, day trips and airport shuttles can be arranged at the tour desk. The villa also provides laundry and concierge services. All villas are private with private pool and private staff. Booking now on Agoda.