Iboih Beach Weh Island is A Hidden Paradise in Sabang, Aceh
Wind slapped the face and wooden boats floating in the water, slowly moving along the shallow waters of Iboih Beach Weh Island.
White sand beach and surrounded by protected forests such as flora and fauna.
The water is so clear and has gradations of green and blue. This like a hidden paradise that has a calm and peaceful atmosphere, you know.
Iboih Tourism is one of the popular beaches in Aceh (Nanggroe Aceh Darussalam), known as Teupin Layeu or harbor that use to go to Rubiah Island.
Located in west of Weh Island, the western end of Aceh Island, Sabang, Sumatra Indonesia. Precisely in Iboih village, Sukakarya Sub-District, Sumatra Island.
Known as the westernmost island in Indonesia, so that on this island a 0 Kilometer monument was built.
Actually, zero kilometers in Indonesia starts from Rondo Island, but the monument was made on Weh Island as a symbol.
This beach offers a fine view of the Indian Ocean and is curved like a smile. It seems to greet you when it comes.
Things to do in Iboih Beach Weh Island
1. Diving and snorkeling
This is a favorite activities! Tourists can enjoying the diversity of the underwater with various species of fish and coral reefs at the points.
Visiting dive sites such as West Seulako, Rubiah Marine Park, northern Rubiah with calm waters, or Batee Tokong.
Pantee Aneuk Seuke or "The Canyon" is a cave, arches, walls and canyons.
You're an experienced diver or not, i don't care. but when diving, you can enjoying the beauty of volcanoes that are below sea level.
This volcano erupted in the Pleistocene era and is said to be what ultimately separated Weh Island from the main island of Sumatra.
Go to Iboih Beach West, you can find surfing locations where there are much bigger waves.
2. Walking around the beach
Exploring Iboih beach with the inner hilly contours will provide an instant adventure.
Along the beach there are large boulders and rock formations that make an interesting sight and make it the best moment to take pictures.
You might be surprised when you realize that most of the seas in Iboih don't get relatively many waves and the atmosphere is generally quiet.
Sumatra beaches are also beautiful like Gapang Beach, Sumur Tiga Beach and more.
3. Exploring the forest
There is an interesting forest. There are many exotic species that inhabit the forest.
Iboih Recreation Forest is located adjacent to Rubiah Marine Park.
This forest covers around 1,300 hectares and is also protected as a special nature reserve for Weh Island. The tropical forests are thick and although dense and rather difficult to walk around, visitors are encouraged to explore with a guide.
How to get to Iboih Beach
From Jakarta, take a flight to Sultan Iskandar Muda International Airport, Aceh. If the national holiday season ticket prices double.
Access to Iboih Beach can be started from Ulee Lheue Port, Aceh Province. Here you will have a choice, using a ferry or speedboat.
Arriving there, you can use the ferry to the Port of Balohan, Sabang. Arriving at the Port of Balohan, you can use public transportation.
Map
Iboih Accommodations
There's several Iboih hotels bungalow-style equipped with bathrooms, air conditioning, and hot water.
Pele's Place is cheap homestay provides a restaurant and free WiFi. Some units are air-conditioned and include a balcony and/or a terrace, as well as a seating area.
Continental and à la carte breakfast options are available daily at the family stay. Pele's Place offers a hot tub. A playground and a private beach area can be found at the accommodation, along with a garden.
Featuring a restaurant and a barbecue, Pulau Weh Paradise (resort) offers accommodations in Weh Island. Free private parking is available on site. Free WiFi is available in common areas.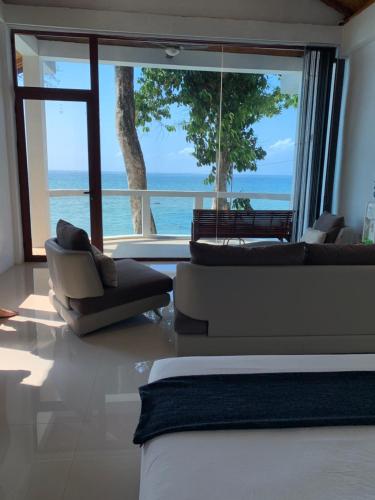 Some rooms have a private bathroom and a private balcony with a seating area. Other rooms come with shared bathroom facilities. Some bungalows are interconnecting to create large suites.
The area is popular for diving and fishing.
Other facilities are cafes, restaurants, boat rentals, diving and surfing equipment rental. Boat rental can be found in Iboih that offers tours of the island.