Karimunjawa Island is The Best Tourist Destination in Central Java
Karimunjawa Island is an exotic white sand beach and beautiful turquoise waters in the middle of the Java Sea archipelago located Northwest of Jepara, Central Java, Indonesia.
Marine life and beautiful biodiversity make Karimunjawa beach one of the nine National Parks in Indonesia.
It has 27 islands north of Semarang and off the coast of Central Java, 5 of which are inhabited by residents.
If you're looking for a relaxing tropical getaway, this cluster of small island formations in Central Java is worth checking out. You can surround it just for one day with rent a motorbike for $5-6.
It is an island away from the crowds, but the excitement of exclusivity also consumes many travel options.
The beauty of Karimunjawa Islands is like in the Caribbean, you know. It has other similarities with the Caribbean consists of several small islands and white sand beaches. Therefore, the ancient Dutch called it Caribbean Van Java.
The best time to visit Karimunjawa Island is during the dry season, from April to October. In the rainy season, wind and waves make the islands and resorts impossible to reach.
Some beach tours and natural attractions that can be visited nearby are.
Sharks Pool
Legon Lele Beach
Nyamplungan Hill
Joko Tuo Hill
The Coastal Edge Gelam
Nirwana Beach and other around Karimunjawa
Meanwhile, in Kemojan village, there are Barracuda beach, Bridal Rock Beach, and tracking Mangrove Forest.
On Joko Tuo, you will find beautiful hilly views across from the small town.
Joko Tuo is a kind of giant fish whale. The length of 3 meters and fish including rare.
How to get to Karimunjawa Island
The first thing is you have to arrive in Jakarta. And then you take a flight to Semarang, Jepara, or Kendal.
From Jepara, available Express 2 Bahari boat and Express Bahari Cantika 89. It takes about 2 hours. Every Monday, Tuesday, Friday, and Saturday the ships will depart. KMC Kartini 1, on Friday and Saturday there was also a surge of passengers. So if you want to leave in two days, please order tickets immediately.
From Semarang, there is a KMC Kartini 1 ship that sails from Semarang to Karimunjawa. Travel time is approximately 4 hours. There is also a scheduled departure every Thursday and Saturday because in Semarang to Achmad Yani Airport and the train station is so close. This route has a lot of demand, one month before leaving tickets were sold out.
You can use a travel agent to get cheap Karimunjawa travel packages from them.
7 Things to do in Karimunjawa Island
So many things to do in Karimunjawa Islands. But, if you buy the Karimunjawa island hopping package from them. You will visit the best spots and adjust the departure for a full day. And consider the situation or the weather for the safety and comfort of all travelers.
1. Swimming with sharks
Swimming with sharks on Karimunjawa Island provides a sensational experience. Here, you will be educated to be close to sharks.
Shark species are quite docile and no attack humans. However, they can still attack humans if they feel threatened.
Many tourists come to Menjangan Besar Island to take pictures with the free-swimming sharks. You don't have to be afraid. You can try the sensation of swimming with smaller sharks.
Apart from swimming with sharks, this also has a pool containing pufferfish, starfish, and several others that you can see.
2. Snorkeling
Snorkeling in Karimunjawa is the right choice. However, to go to Menjangan Kecil Island from Karimunjawa port, you need a fishing boat. If you book a tour package, you will go to your destination. However, if you want to go alone, you'll need a fishing boat and a paid snorkeling guide.
From the main port of Karimunjawa, you will be directed to the east approximately 30-40 minutes to the destination, namely the snorkeling spot on Menjangan Kecil island.
3. Dive in a wreck of a wreck
You will waste time if you don't prepare a dive permit to explore the amazing deeper underwater paradise.
You will get the experience of diving near a wreck. Not just one wreck, but many points.
For example, Coral Ship, Pinisi Shipwreck, Indonoor Shipwreck, and the most popular is the Shipwreck Biblis which has bronze propellers decorated with many charming soft corals.
4. Watching Sunset
Love Hill is a place near town to watch the sunset. Sunset Beach is one of the most popular bustling spots by many boats stopping at the end of the day after the trip.
5. Cemara Island
Two beautiful islands are Cemara Besar Island and Cemara Kecil Island. They are known to have extraordinary underwater beauty for diving and snorkeling.
Indeed, it is a little far from Karimunjawa Island in the western part. But it's all fun when it comes to seeing Cemara Island.
6. Cilik Island
It is the most famous Island with beautiful nature which is in the eastern part of Karimunjawa Island. Offers underwater, coral reefs, and several spots to the west.
It will take you about 30 minutes to leave.
The further away we are to visit the Island, the more we feel one with nature.
7. Tanjung Gelam Island
Tanjung Gelam Island is not too far from Cemara Besar Island. On this beach, tourists will see white sand and coconut tree formations around it.
Besides offering beautiful beach views, Tanjung Gelam Spot also has a beautiful sunset view. Also, you can snorkel.
Map
The Best and Cheap Karimunjawa hotels
If you are looking for hotels where to stay in Karimunjawa, here I'm gonna show you the best and cheap Karimunjawa hotels.
1. Leyeh Leyeh Hostel Karimunjawa
Leyeh Leyeh Hostel is one of the best hostels in Karimunjawa and good vibes, which Located in Karimunjawa, 0.9 mi from Pancuran Beach. Leyeh Leyeh Hostel Karimunjawa offers accommodations with a bar, free private parking, a garden, and a terrace.
Also, provide all-day snorkeling, diving, hiking, camping, and scooter rentals. The accommodations feature a shared kitchen and free WiFi throughout the property.
Sharing is caring and happy to help. Come and stay, they will give you the best service. Book now on Agoda.
2. Deepsky Villa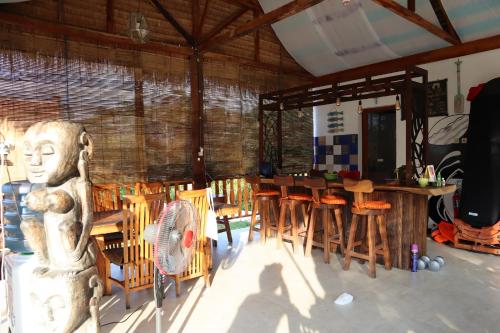 Deepsky Villa features a restaurant, bar, shared lounge, and garden. This 2-star guest house has air-conditioned rooms with free Wi-Fi, each with a private bathroom. The accommodation offers a 24-hour front desk, a tour desk, and ticket service for guests.
Continental and à la carte breakfast options are available each morning at the property. Sunset Beach is 1.5 km from Deepsky Villa. Book now on Agoda.
3. Ayu Hotel Karimunjawa
Ayu Hotel Karimunjawa offers air-conditioned accommodation with a mix of modern and traditional Javanese designs. Free WiFi access is available. Breakfast is included in the rate.
Each air-conditioned room here will provide you with a terrace. The private bathroom is also equipped with a hot shower. You can enjoy a garden view from the room.
Other facilities offered at the property include scooter rental and laundry facilities. Various activities can be enjoyed at the accommodation or in the vicinity, including snorkeling and diving.
The hotel is only a 5-minute drive from Karimunjawa Center City where guests can find many dining and hangout options with stunning views. The nearest airport is Dewandaru Airport, a 40-minute drive from the property. Book now on Agoda.
Don't forget culinary!
Karimunnjawa Square is a culinary center. If you feel hungry, come to Karimunjawa square and order a few servings of fresh fish there. The menu served is mostly seafood.
But, sometimes a new menu if you see it directly.
Enjoy your vacation 🙂