Pangandaran Beach West Java is a tourist attraction on the south coast of Java that has the beauty of black sand beaches and white sand beaches.
Located in the southeast of West Java, precisely in Penanjung village, Pangandaran district, West Java province.
Calming waves and spectacular sunset views in the afternoon.
Pangandaran tourism which is famous as a fishing village is still overrun by tourism every big day, weekend, and New Year's Eve. Even though there were an earthquake and tsunami a few years ago.
The tourists come from Bandung, Jakarta, or outside Java Island. They use transportation such as buses, private cars, and motorcycles.
Black beaches will never stand a chance compared to Bali when it comes to attracting the big crowds.
12 Things to do in Pangandaran Beach
So many things to do in Pangandaran beach that make you feel comfortable to spend your vacation time.
Pangandaran has two beautiful beaches on the west and east. Pangandaran west is an ideal tourist destination that is safe and comfortable. In this area, you can be swimming, sunbathing, biking, and more.
1. Banana boat
This is the first thing I did when visiting Pangandaran before I go further.
I want to make my friends feel drunk. lol
We just hold on to the rope in the balloon and they will pull using the motorboat at high speed.
Then they will spin and make the balloon fall.
2. Donat boat
It's the same as Banana boat because two of these activites is the best things to do in Pangandaran beach by local tourist. However, we only focus on holding on to one string. They driving a motorboat at high speed, but it won't make you fall.
However, you will be truly seasick. lol
You May Also Like: Borobudur Temple is 7 wonder in the world
3. West Beach
Pananjung Beach is a stretch of soft white sandy beaches and beautiful coral reefs that are strong magnets to visit.
Located on the southern coast of Pangandaran area which is divided into 2 parts, west white sand, and east white sand.
Here, there are Shipwrecks of a Viking fishing vessel that was stranded near White Sand Beach. The FV Viking ship was stranded after it was bombed by Susi Pudjiastuti (the Minister of Maritime Affairs and Fisheries) a few years ago.
4. East Beach
The east beach is a place for jet ski and banana boat, even famaous for culinary delights. of course, the special menu provided is seafood.
Local tourists ussualy buy souvenirs at the first market for their family.
In the south there is a fresh fish market that can directly buy fresh fish from frishermen.
5. Pangandaran Nature Reserve
The Nature reserve and National Park are placed that are protected by the Government.
This forest is a place to living such as monkeys, deer, flora, and fauna. Not only that, but there are also some natural caves and artificial caves built by Japan during the second world war as a bunker.
In this area, some waterfalls directly lead to the sea. If you are curious to see a waterfall that flows directly to the beach, visit this hill.
6. Go Explore Cave
This is mystical. before leaving, you will be given a flashlight to explore the cave. There are 7 Caves in Nature Reserve.
A unique stone is a stone that is shaped like a male and female genitals.
In myth, if you are a man or woman haven't found a lover. The things to do is hold the opposite xxx. lol
You May Also Like: Nusa Penida Islands Bali
7. Snorkeling
Snorkeling is a fun thing, right? so you will see coral and swim with fish. However, you have to first buy bread because the fish won't come if there is no food.
If you go with a tour guide. You will see large stones and some that will be explained in detail.
8. Go Surfing
Batukaras Beach is a black sand beach. This beach is the best for surfing. Located in Batu Karas village, District Cijulang, Pangandaran Regency, West Java Province, Indonesia.
The travel time is about 1 hour from Pangandaran.
Besides, you can be canoeing at Pangandaran Nusawiru Mangrove and Skydiving at Nusawiru Airport.
How to get to Batukaras you can do it yourself by rent online transportation on your smartphone such as Gojek or Grab or using travel agents.
9. Pangandaran Green Canyon
Not only in America. There are also here, you know.
Pangandaran Green Canyon is the flow of the Cijulang river through the cave. This area is flanked by two hills, many rocks, and trees. Located in Kertayasa village, Cijulang, Pangandaran, West Java, Indonesia.
Here, you can swim in a cave and body rafting.
This is one way to go Batukaras, Batu Hiu Beach, and Citumang. So you can go here first before going to your destination.
10. Citumang
Citumang River (Green Valley) is a river of clear springs surrounded by trees.
When water flow increases, don't worry about flash floods. here, you can body rafting to exploring river water for 3-4 hours.
Located in Bojong Village, Parigi District, Pangandaran. 19 km from Pangandaran to the west. Can be reached by renting a vehicle or using online transportation such as Gojek.
You May Also Like: Gorontalo tourist attractions for weekend trips
11. Karang Nini Beach
Here some corals resemble a grandmother is waiting for her husband. So this beach attraction is named Karang Nini Beach.
Located in Desan Emplak, Kalipucang District, Pangandaran Sub-district.
12. Pangandaran Bamboo Cafe
This is my favorite cafe and the best things to do in Pangandaran Beach at night. I usually playing billiards with my friends and enjoying the nightlife.
I don't know when this cafe was changed, but it's better now.
How to get to Pangandaran Beach
Going to Pangandaran Beach without a tour guide is very easy. Even the government plans to revive the railway line.
If you're living in Jakarta, you take the Budiman bus from Jakarta at Kampung Rambutan Station. Jakarta to Pangandaran approximately 6 hours to get. After arriving, you can use a pedicab, online transportation, or on foot.
If you're living in Bandung, you take the Budiman bus from Bandung to Pangandaran. If you don't ride on a one-way, you will stop in Tasikmalaya, Banjar, or Ciamis. You also can make the flight Bandung to Pangandaran with Susi plane only takes 40 minutes and arrived at Pangandaran airport.
If you have more money you can use travel agent services to go.
Map
Ticket Price
The price isn't too expensive but sometimes change.
Pedestrian 1 Person IDR 5800
Motorcycles IDR 15,000
Vehicles Type Jeep IDR 34.000
Vehicle Type Carry IDR 65.000
Large Passenger Vehicle IDR 93.000
Small Bus IDR 122.000
Medium Bus IDR 186.000
Large Bus IDR 307.000
Pangandaran Accommodations
So many hotels in Pangandaran beach that fit every budget scattered throughout the city. Most are on the road along the beach, or in an alley not far from the road. The room is clean and equipped with a fan and AC.
1. Sun in Pangandaran hotel
Sun in Pangandaran hotel is a three-star hotel and friendly staff. The room was spacious here are very competitive in price for the quality and facilities offered. There is a swimming pool in dark blue is very popular with children and adults.
The deluxe rooms are normally very nice and there is a large bed with a duvet, AC, TV, clean bathroom a bit strange because the floor is made of metal, and the last one there is easy access to the pool. By increasing your budget, you can upgrade to a Deluxe Seaview room types which have views over the East Coast. Booking now on Agoda or Booking.com!
2. Bale'ku
Bale'ku offers views of neighboring rice paddy fields and provides free Wi-Fi access throughout the guest house. Fan-cooled rooms here will provide you with a terrace, mosquito net, and wardrobe.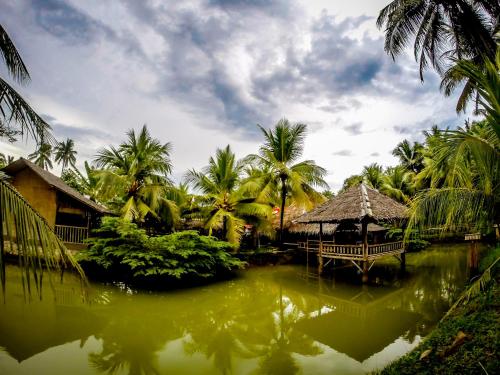 Featuring a shower, private bathrooms also come with towels.
The guest house Is 20 minutes' drive from Batu Hiu and is 60 minutes' drive from Batu Karas surf spot. Other facilities offered include an ironing service and a laundry. Booking now on Agoda or Booking.com!
3. Pondok Wayang
Pondok Wayang offers accommodations with a bar, free private parking, and a terrace. This 2-star guest house offers a concierge service and a tour desk.
The accommodations provide a 24-hour front desk, airport transfers, room service, and free WiFi throughout the property. At the guest house, all rooms have a private bathroom with a hot shower. Pondok Wayang offers a continental or Asian breakfast. Booking now on Agoda or Booking.com!
You can booking or see other Pangandaran hotels below for where to stay in Pangandaran Beach. Wait, and then click zoom +/-.
When it is a big day or national holiday, the price go up and all Pangandaran beach hotels are almost full.
You May Also Like: Handmade Travel Accessories For Next Trip
Souvenirs
Most areas provide various souvenirs typical to take homes such as food, Pangandaran beach style clothing, miniatures, handicrafts, and others. This might be useful to complete your collection or as a home decoration.
Some decoration crafts such as shells and snails, some units are on sale and displayed. These handicraft sellers can be found near the crowd.
You May Also Like: The Best Luxury Travel Accessories During Your Trip
Another product that can be used as a gift is clothing.
You can buy it in all areas. but this is usually by local tourists to give a gift to family or friends.