Sipora Island is a Surfing Destination in Mentawai
Sipora Island is an exotic rain forest and located in the Mentawai Islands, Tuapejat, West Sumatra. There is a surfing tourism island that is right in the middle between Pagai Island and Siberut Island.
The best time to visit Sipora Island for surfing is from April to October. But, if visit on weekdays. You still enjoy the challenging waves for most of the year.
Things to do in Sipora Island are snorkeling, diving, and surfing because it has world-class surfing points such as Hollow Trees and Lance's Left at the southern tip of the island. Some other famous surfing spots are in the northwest, including Telescopes, Iceland, and Scarecrows.
Hollow Trees are also known as HT or Lance's Right. Cylindrical wave (called the right tube) over the last ten years often appear in magazines and the surfing video world.
When the big waves didn't come, three zones take off that challenges you to be able to maneuver smoothly. When a big wave is coming, broke the top of the waves will be connected continue that will make you admire.
You May Also Like: Learn Surfing in West Java
Be careful of the so-called Surgeon Table at this surf spot; you think this is like a trophy raised waves. Hollow Trees not recommended for beginner surfers because of the waves challenges that exist for professional surfing
Lance's Left is the strong and most consistent type of wave in Sipora Island and surrounding areas. Having the characteristics of waves with two different and some take-off zones, Lance's Left (if supported by perfect conditions) can be one of the most beautiful waves.
Many people call and compare Lance's Left as the Money Trees wave from the Mentawai version of G-Land. The movement of the waves in the sea level due to differences in air pressure and a big wind zone capable of creating a perfect take off vertically. When the waves are not too big, Lance's Left is suitable for surfers with medium skills.
Apart from these four surfing spots, there is one famous spot that can find in Katiet Village, located at the southern tip of Sipora Island. This village is precisely in Bosua village, which is about four hours away by speed boat from Tua Pejat.
You may also like: Surfing on River
Katiet Village is famous for its perfect wave rolls with a height reaching 3-4 meters. The beach in this village has relatively many corals, but this doesn't preclude the surfers' intention to find the waves. The waves in Katiet Village are very good from early April to December.
Another place to surfing that is well known by the international world is Karang Manjat. The very long waves make it one of the favorite places that often invite tourists.
Karang Manjat is also a snorkeling and diving tourist location because has the best percentage of living corals.
If you want to snorkel, Awera Island is the right choice. The white sandy island with beautiful coconut trees, which is about 3.5 kilometers from the wharf of the capital of the Mentawai Islands district, Tua Pejat.
Gosong Siasiat is a place for diving, the diversity of fish, and the beauty of coral reefs. Ghost Pipe Fish, nudibranchs, harlequin shrimp, octopus, sea horses, various types of crabs, turtles, and others can be found in the depths of the sea around Gosong Siasiat.
How to get to Sipora Island
There is an airport on Pulau Sipora but only for charter flights. The preferred route is by boat or speed boat. All boats will usually go to Siberut Island before going to your destination and other islands in the Mentawai Islands.
Boats from Padang to Siberut Island will depart Monday, Wednesday, and Thursday. Cruise back to Padang on Tuesday, Thursday, Friday, and Saturday.
Mentawai Express serves a speed boat trip of approximately 4 hours drive to Siberut Island. This cruise is available on Thursday; the schedule to return to Padang is on Friday.
Sumber Rezeki Baru serves a trip to Siberut Island (at night) by ferry. Sailing schedules are Monday and Wednesday; the schedule to return to Padang is Tuesday and Thursday. Travel by ferry for about ten hours.
Mentawai Express, Sumber Rezeki Baru, and Beriloga provide travel services from Siberut Island to other islands, including Sipora Island.
Map
Sipora Accommodations
To stay overnight in Sipora Island, tourists can stay at local people's homes in Tuapejat. Some other tourists usually also choose to stay on a cruise ship that can be rented in Padang or choose to stay at Katiet.
1. Sipora Selatan Home With View
Sipora Selatan Home With View has air-conditioned accommodations in Katiet. Guests can chill out in the outdoor swimming pool.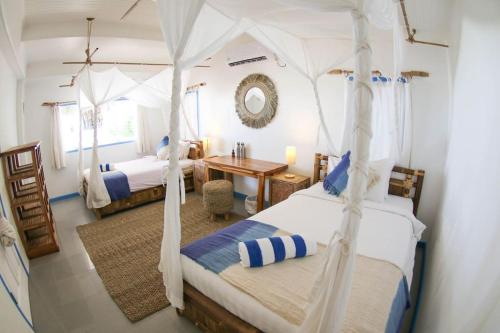 Guest rooms in the inn are equipped with a coffee machine. Booking now on Agoda.
2. Honeymoon Villa
Honeymoon Villa features a private pool. The villa provides an outdoor pool and free WiFi.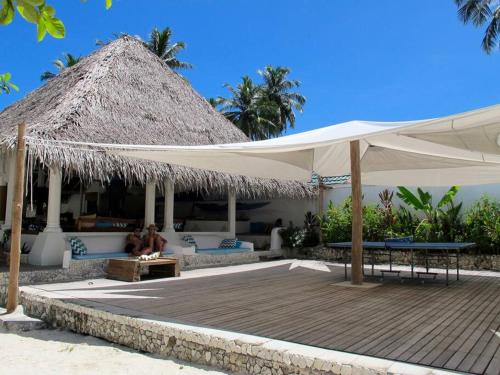 Leading onto a patio, this air-conditioned villa comes with 1 separate bedroom and a fully equipped kitchen. Booking on Agoda.