Nusa Penida is a small island located in the southeast of Bali which is separated by Badung Strait and offer things to do in Nusa Penida for exceptional photos.
Near this island there are also other small islands such as Nusa Ceningan and Nusa Lembongan.
The beauty of Nusa Penida island is famous for triple snorkeling places, white sand beaches, unique rock formations and views of the famous cliff on instagram.
Making a Nusa Penida itinerary is the right choice when you feel bored in Bali and need something else.
You can take a tour 1 day trip, 2 day or solo travel.
Sometimes Nusa Penida island is ignored by tourists because of the quiet nightlife, there are no nightclubs, pubs and fire dancers.
How to get to Nusa Penida Island
In Bali Island there are many cruises to Nusa Penida. Fast boats are available in almost every 4 harbors in Bali, starting at 7 am to 5 pm. You will arrive at a different location, maybe every company is working with the harbor in Nusa Penida such as Seblanga Banjar Nyuh, Toya Pakeh and Sampalan.
Sanur Harbor
This is the most popular busy harbor to Nusa Penida from Bali using fastboats. There are many fastboat companies that offer to go to Gili Islands, Lombok, Lembongan and Penida.
The boat departs between 9 am and 5 pm; journey from Sanur Harbor to Nusa Penida Island takes approximately 30-45 minutes. You can buy tickets online or at the harbor. This is the map.
Ticket prices depend on the boat you are riding in. For adults a fee of 150 IDR or $ 11, and for children 125 IDR or $ 10 one-way.
Booking through a travel agent or hotel will be more expensive one-way. The best thing is to arrive at the Port is at 7 am and booked. So, shouldn't be missed.
Serangan Harbor
The tourists who were in Jimbaran and Nusa Dua, they chose to cross from Serangan Island to Nusa Penida.
This is closer and easier to access. The journey starts at 09.30 am.
Padang Bai Harbor
To go to Padang Bai Harbor from Ngurah Rai Airport or Kuta area around 1 hour more, whereas if from downtown Denpasar about 1 hour by motorbike or online transportation.
Cheap ticket prices are the best choice for tourists who have a limited budget to use this harbor as a crossing point to Nusa Penida by Roro Boat.
The tourists can bring luggage in large quantities, even can bring vehicles, you know.
Ticket prices are charged around IDR 30 or $ 2-3 for adults and for Children IDR 25 or $ 1-2. But, if you bring your private vehicle, will be fee extra.
From Padang Bai Harbor to Nusa Penida approximately 1 hour one-way.
Empty or busy, this boat still sails 2 times a day. Starting at 7 – 9 in the morning and 5-6 in the afternoon. So you shouldn't be missed.
Klungkung Tribuana Harbor
This is the traditional harbor the alternative crossings apart from Sanur to Nusa Penida and Padang Bai.
Located on the Kusamba beach.
The harbor facilities are fairly limited compared to Sanur harbor and Padang Bai. However, this port is still busy.
Not only tourists who do the crossing to Nusa Penida Island.
The local Balinese people use this crossing to make their prayers.
Land transportation
After you arrive at Nusa Penida harbor, you will rent vehicles such as motorbikes and cars to go to your destination.
The road conditions in Nusa Penida haven't all been asphalted. Sometimes foreign tourists fell when they were riding a motorcycle.
However, if you go with a tour guide. You don't need this, because everything is wrapped.
Map
13 Things to do in Nusa Penida Island
Many interesting and instagramable tourist attractions to visiting Nusa Penida such as the South of Nusa Penida Island, the West of Nusa Penida Island and the East of Nusa Penida Island.
This will be the best list of things to do in Nusa Penida when you're on vacation in Bali. I hope you don't miss a place.
1. Kelingking Beach
Yep, this is an iconic attraction in Nusa Penida, you know.
Kelingking Beach is a spectacular and extraordinary sight with cliff formations such as T-Rex.
Located in Karang Dawa Hamlet, Bunga Mekar Village, Klungkung Sub-District, Nusa Penida District.
White sand beaches and blue water are the right target to shoot your drone.
If you're a brave man among them. You can go down the stairs depend on bamboo, broken fence and down the stairs.
It's quite dangerous if you are an acrophobia.
You need about 40 minutes – 1 hour to arrive at the beach. I have written Keligking Beach Nusa Penida, you can read it.
2. Diamond Beach
Diamond Beach Nusa Penida is a hidden gem that offers a combination of high slides from the scenic landscape of cliffs and white sand beaches in Nusa Penida. This is thousand island viewpoint.
A cone-shaped stone that resembles diamonds and the beauty of Indian Ocean blue waters.
Diamond Beach Bali is a new tourist attraction, you know. This place has become popular with travelers accounts on Instagram and Pinterest. This can be a list of things done in Nusa Penida.
You can go to the bottom using a stairs with a length of about 25 meters.
These steps are made from a rock hill wall.
You May Also Like: Luxury Travel Tech Accessories
3. Angel's Billabong
Angel's Billabong is a natural pool and sharp coral walls. Clear water filled with moss and beautiful views of the Indian Ocean, and mountains.
Here, you can swim without limits and take pictures.
Before you swim, I think it's better that you really have to watch the waves.
I mean, we don't know tides, right?
Don't forget to bring an offline map when you go alone or with friends, you can also follow those who want to go to Angel Billabong. Here, sometimes GPS is bad.
4. Broken beach (Pasih Uug)
After you swim in Angel's Billabong, walking a little to the broken beach is interesting.
Broken beach (Pasih Uug) is a cliff with a height of 30- 200 meters and a hole in the middle of the rock. It's like a cave or tunnel.
During high tide. You will see water trapped in the middle of a cliff. It looks like a giant pool.
5. Crystal Bay Beach
Crystal Bay is one of the most popular dive sites in Bali, you know. It is located on the west coast of Nusa Penida.
Views of crystal-clear water, white sand beaches and luxuriant vegetation.
I don't know, sometimes they think Crystal Bay as less attractive for tourist destinations except diving.
6. Manta Bay
Manta Point is the spot world-class snorkeling and Diving, which has great scenery.
There are triple snorkeling places to diving with Manta rays.
This is the best things to do in Nusa Penida to swimming experience with manta rays large.
Also you can see the statue buddha under water.
You may like: Best Place for Scuba Diving and Snorkeling in Bali
7. Atuh Beach
Atuh Bali Beach is one of the beautiful hidden beaches located in the southeast of the island of Nusa Penida.
This beach location is closed because it is flanked by 2 high cliffs and close to the diamond beach.
It is difficult to reach by motorcycle.
Views of white sand beaches and crystal clear water, there are also two large rock formations or cliffs are the main attraction Atuh Beach Nusa Penida.
Make sure you come in the morning before the tide!
Here, you can take pictures at rumah pohon (Molenteng tree house). As if you sleep there. When you wake up, the dream is real!
8. Goa Giri Putri
Goa Giri Putri is the biggest cave in Nusa Penida. This is used for those who want to calm the mind.
However, tourists can also come to this place. You should rent a hip scarf or sarong from the store.
When entering, you have to crawl through a very small hole that opens into an underground cave. Carved temples, colorful offerings and sacred cave temples await you below!
Hi ladies, avoid this if you are menstruating.
9. Peguyangan Waterfall
The journey to Peguyangan Waterfall known as "Blue Stairs to Heaven".
It will draw you deeper breath.
You have to walk on the blue stairs attached to mountainslide to go to the waterfalls and temples below.
Swim in a natural seaside pool from clean springs and enjoy the waves. But you must be careful because sometimes big waves.
Avoid this one if you are menstruating.
10. Teletubbies Hill
If you go with a tour guide, surely this will not be missed. However, if you are a solo travel. It can be bypassed by you, but it also depends on confidence.
Teletubbies hill is a natural tour and green hills. It's almost like a child serial television show, played by Tinky Winky, Dipsy, Laa Laa and Boom.
Oops, I mean Po. lol
Located in Kubutambah village, Sub-District Kubutambah, Buleleng District. The place is on a side street, but you must enter a small road.
11. Raja Lima Beach
Raja lima is a popular beach on Nusa Penida. Formation piaynemo is similiar to Raja ampat Island.
Actually this is an area with Atuh Beach, Diamond Beach, Molenteng tree house and Thousand Island viewpoint.
The difference with the Thousand Islands viewpoint is that there is a statue in Raja Lima. While on the thousand islands there is none.
Here, you only the sights stones and blue ocean from the top of the cliff. Also you'll feel the wind blowing into your face and take pictures.
12. Banah Cliffs
Banah Cliffs are limestone formations with green plants and shaped like a donut with a height reaching 200 meters above sea level.
Located in Batumadeg village or about 35 km from the port of Roro boat.
The best time to visit is in the afternoon to see sunset and the waves crashing on the reef.
13. Suwehan Beach
Suwehan Beach is a place famous for diving, snorkeling and swimming attractions.
White sand beach surrounded by rocks and coral walls.
Besides swimming, here you can camp together with your friends and make a campfire enjoying a long night.
Entrance fee to this place is free.
Nusa Penida Accommodations
Lots of hotels and resorts to stay in Nusa Penida Island. You can choose which medium to luxury with traditional decor and luxurious.
So, look at your gadget, then book before you go. It is useful to look at the price or discount.
Semabu Hills Hotel Nusa Penida is elegant all-suite hotel is set on a hillside overlooking the sea. It's a 15-minute walk from the nearest beach, and 2 km from Banjar Nyuh Harbour for ferry crossings to Bali mainland.
Click the pic bewlo to see more details.
Horizon Nusa Penida is cheap hotel in Nusa penida. the price about $30 and you feel like at home. this hotel is good place and nice food.
Click the pic below to see more details.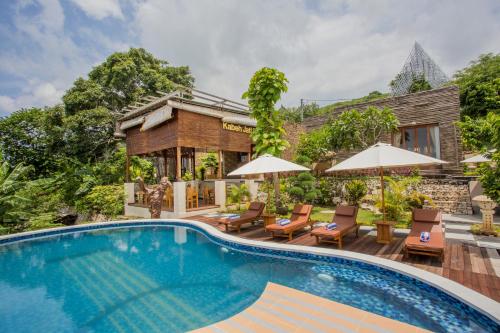 All depends on the budget you have. Don't forget to bring more money and pinned your travel plans before going to Nusa Penida Island!
You can also check via booking.com that the price on map below. just click zoom out or zoom in.
so find good hotel for you stay during vacation. Indonesian rupiah is the lowest currency. $ 1 = Rp.14,000. so the difference is 0. don't make it wrong!!
You May Also Like: Handmade Travel Accessories For Next Trip
Other Facilities are cafe and billiard to enjoy a beautiful nighlife with a glass of beer with friends or other travelers.
If you think it'samazing.
Please share of things to do in Nusa Penida and write a comment below.
Hopefully your vacation fun.